Merrymeeting Bay Shoreline Cleanup
Saturday, June 5, 2010
Bowdoinham 12:00-2:00 pm, Helen Watts 666-3920 or 522-9366
Bath- Butler Cove 12:00-2:00 pm, David Barber 442-9335

Local group celebrates National River Month with Merrymeeting Bay Cleanup Day

Celebrate National River Month with Friends of Merrymeeting Bay (FOMB) on Saturday morning, June 5th at 12:00 pm, for their annual Merrymeeting Bay Cleanup. Volunteers are needed to help comb the shores for garbage. This year volunteers will gather in two locations around the Bay, Abbagadassett Pt., Bowdoinham & Butler Cove, Bath. Help your community by scouring the shoreline for accumulated trash and make this magnificent watershed even more beautiful. You can bring the kids too—the clean-up is a great way to get them involved in something meaningful, and to help them develop an appreciation and sense of responsibility for the environment at a young age—not to mention a great way for kids of any age to burn off some excess energy!

Merrymeeting Bay drains 38% of Maine and with all that water comes plenty of trash, often held here by the tides, circulation patterns and vegetation. Cleaning up America's waterways has, in recent years, not only become an issue of aesthetics in outdoor recreation, but a matter of clean water. Improperly discarded waste contributes to contaminated drinking water and adversely effects wildlife. Improperly discarded trash and debris inevitably end up in the watersheds of many rivers and streams. Unchecked, much of this trash and debris is channeled into waterways and collects along the banks effecting the appearance and ecosystems of the stream, river, and Bay-side environments.

Pre-registration is required for this event. To register for the Abbagadassett Pt., Bowdoinham cleanup please contact Helen Watts at 666-3920 or 522-9366. If interested in the Butler Cove, Bath cleanup please contact David Barber at 442-9335 <mailto:boatshop@gwi.net> for registration. Trash will be collected, documented and sorted for recycling and disposal. Please dress for the weather, wear sturdy footwear and bring work gloves.

The next FOMB Outside 2010! event will an evening paddle on the Cathance River with FOMB member and kayak guide, Ian Ramsey. This trip is scheduled for Tuesday, June 15th from 6:30- 8:30pm. To pre-register for this event please contact Ian Ramsey at 751-7569.

The FOMB Summer Outside! Series is the warm weather counterpart to FOMB's popular Winter Speaker Series. Events are usually free and are open to the public. To receive more information about FOMB's programs call Misty Gorski, Executive Coordinator, Friends of Merrymeeting Bay, at 737-8508 or fomb@suscom-maine.net.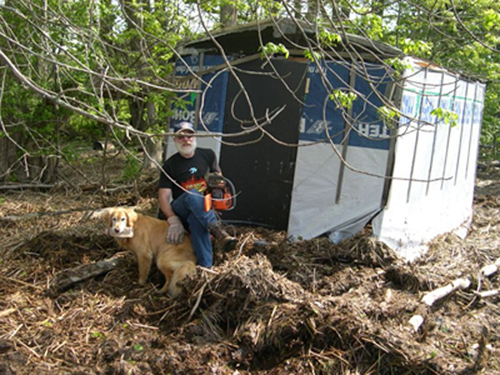 Photo: Volunteer helping clean up Merrymeeting Bay shores