Outside 2015

Annual Merrymeeting Bay Spring Cleanup
Saturday, May 23rd, 10:00am-2:00pm
Abagadasset Point, Bowdoinham, ME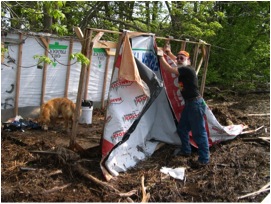 Removing an abandoned smelt camp.
This month, Friends of Merrymeeting Bay (FOMB) kicks off its Outside! 2015 series with a chance to get some sun and clean an important local landscape. On Saturday, May 23rd from 10:00am-2:00pm, volunteers of all ages will convene for FOMB's Annual Spring Cleanup of the Merrymeeting Bay Wildlife Sanctuary on Abbagadassett Pt. in Bowdoinham.

Participants will scour the shores for trash and debris and remove it for recycling. Classes, churches, and social groups of all kinds are welcome to attend. Kids are encouraged to take part so they have a chance to experience the Bay firsthand and learn the importance of environmental stewardship.

Merrymeeting Bay is the confluence of six rivers, forming a tidal riverine inland delta draining nearly 40% of Maine. Trash removal helps keep fragile habitat vibrant, healthy, and safer for the native bird, plant, and fish species, many of which are endangered or threatened.

In previous cleanups, dedicated FOMB volunteers have removed common trash items like bottles, shoes, and fishing lures, as well as larger items like tires and smelt shacks. Cleanup efforts assist with FOMB's mission to protect and improve the quality of life in this area through conservation, research, education, and advocacy.

The event will take place at low tide, so volunteers are encouraged to dress accordingly for the mud. Boots, gloves, and drinking water are necessary, as well as what you will need to stay comfortable in the sun (suntan lotion, hat, sunglasses, insect repellant).

Pre-registration is required. Please contact Kathleen McGee, Coordinator/Organizer at 666-3598 or fomb@comcast.net.

Visit www.fomb.org to see full event schedules, become a member, and learn more about how you can help protect beautiful Merrymeeting Bay.

Friends of Merrymeeting Bay: Celebrating 40 Years!