Saturday August 12th 9:30-11:00am
Merrymeeting Wildlife Management Area, Bowdoinham
Contact: Ed Friedman, FOMB, 666-3372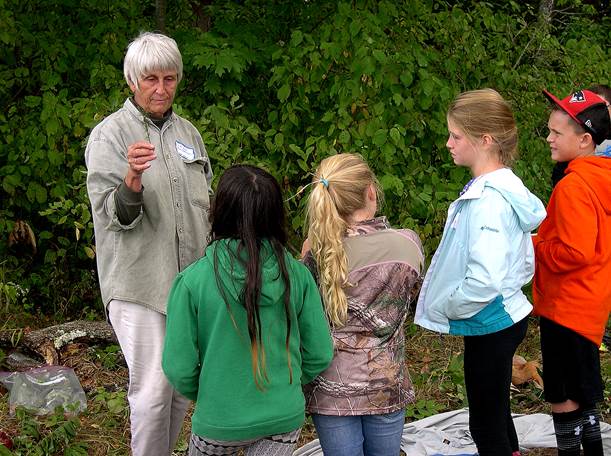 Photo: Ed Friedman -- Leslie Anderson works with students at Bay Day


Join Friends of Merrymeeting Bay (FOMB) on Saturday August 12th from 9:30-11:00am for a morning tree walk and talk with Leslie Anderson at the Merrymeeting Bay Wildlife Management area in Bowdoinham.
Trees, along with fish, define Maine's post-European contact history. The "Pine Tree State", sometimes termed the "Pulp Colony" has served up an array of timber products over the centuries for such varied uses as ship frames, sheathing and masts for the King of England, pirates, revolutionaries and yachtsmen. While white pines most often get the attention in Maine, we are home to other softwoods like spruce and fir species as well has hardwoods like birch, beech, maples and oaks.
Leslie Anderson has conducted tree walks at FOMB's Fall and Spring Bay Days for many years beguiling 4th graders, chaperones and teachers with tales, tastes, identification and touching of our diverse tree species array.
The next FOMB Outside 2017! event will be a Geology Walk with Peter Goodwin on August 28th from 4:30-6:00pm in Bowdoinham. Pre-registration for both walks with Ed Friedman at 666-3372 is required. FOMB's Summer Outside! Series is the warm weather counterpart to FOMB's popular Winter Speaker Series. These events are free and open to the public. For more information: www.friendsofmerrymeetingbay.org .