Join Friends of Merrymeeting Bay (FOMB) on Tuesday August 23rd at 5:30pm for an evening paddle, or row, to Little Swan Island on the Kennebec River. Participants will meet and launch from the Swan Island ferry landing just north of the Richmond Town Landing.

If time permits the group will circumnavigate the Island. Little Swan is a well established bald eagle nesting site, an important archaeological site and hosts some of the prettiest paddling in the Bay area. It is part of the Steve Powell Wildlife Management Area, which also includes Swan Island, and is administered by the Maine Department of Inland Fisheries & Wildlife (MDIF&W).

Leading this paddle is Warren Whitney (Whit), formerly the Executive Director of FOMB and currently Land Trust Program Manager, at Maine Coast Heritage Trust. Paddlers must bring their own boat and PFD and possess at least intermediate paddling skills.

The FOMB Summer Outside! Series is the warm weather counterpart to FOMB's popular Winter Speaker Series. This event is free and open to the public. Pre-registration with trip leader Warren Whitney at 666-3376 is required.

The next FOMB Outside 2016! event will be a Swan Island tour with local historian Jay Robbins on September 16th from 9am-1pm. There is an $8 island fee to MDIF&W for this event. On September 18th, the last FOMB seasonal event will be a Swan Island circumnavigation by boat with narration by Jay Robbins (suggested donation-$5). Pre-registration for both of these outings is with Jay Robbins at 737-2239. For more information on FOMB programs, call Ed Friedman at 666-3372 or go to the FOMB web site at www.friendsofmerrymeetingbay.org .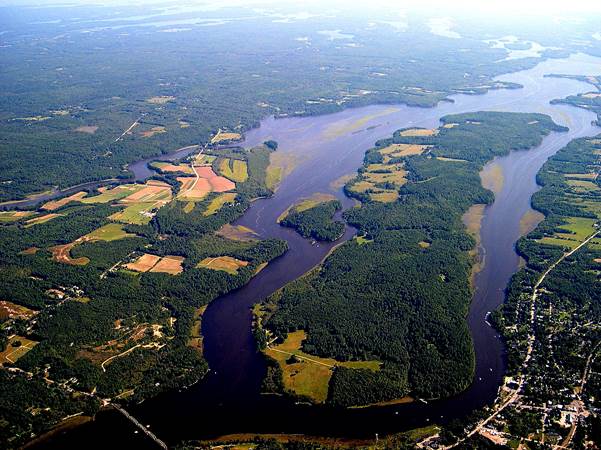 Swan & Little Swan Islands-Point of View Helicopter Services