Explore Swan Island: A Historical Tour
Saturday, August 7, 10:00 AM - 12:00 PM
State Ferry Landing North of the Richmond Public Boat Launch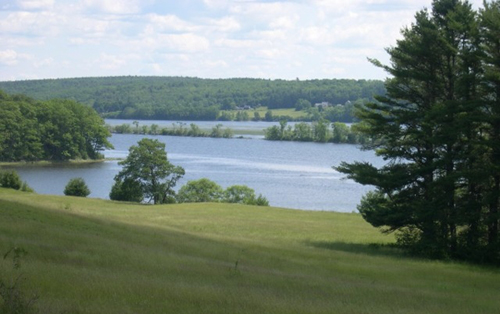 This event is open to the public. Pre-registration and $8.00 access fee are required. Attendance is limited. To register, contact trip leader Jay Robbins at 737-2239.
Step back in time with Friends of Merrymeeting Bay [FOMB] on a historical tour of Swan Island this coming Saturday, August 7th from 10:00 am- 12:00 pm. FOMB member and Lincoln County Historical Society Executive Director, Jay Robbins, will lead the tour to this unique, traffic-free nature reserve managed by the Maine Department of Inland Fisheries and Wildlife and known for its abundant bald eagles, white-tailed deer and wild turkey. Located in the Kennebec River between Richmond and Dresden, the four mile Swan Island is a part of the Steve Powell Wildlife Management Area and is included on the National Register of Historic Places.
The group will gain the island by ferry from Richmond for a tour lasting approximately two hours. The Island's name itself is derived from "Swango," the Abenaki name for "Island of Eagles." In the late 1800s, a small community on the island earned a living by farming, fishing, lumbering, shipbuilding, brick manufacturing, and ice making. The Island was also reportedly visited by American historical figures Aaron Burr and Colonel Dearborn. On the tour, you'll come to know the history of the abandoned Island, once known as Perkins Township—and get an intimate look at several historic houses that remain in varying stages of preservation from sixty years ago when the Island was last inhabited. What's required on your part? Just a good pair of walking shoes, a refreshment, and your own natural curiosity. Be prepared to walk about three miles on a dirt road.
The next FOMB Outside 2010! event will be a Merrymeeting Bay paddle beginning from Butler Cove in Bath on Saturday, September 4th from 7:30 – 11:30 AM. Please pre-register with trip leader Anne Hammond at 442-8535.
The FOMB Summer Outside! Series is the warm weather counterpart to FOMB's popular Winter Speaker Series. Events are usually free and are open to the public. To receive more information about FOMB's programs call Misty Gorski, Executive Coordinator, Friends of Merrymeeting Bay, at 737-8508 or fomb@suscom-maine.net. The full Outside! Series is on the web at: www.friendsofmerrymeetingbay.org .